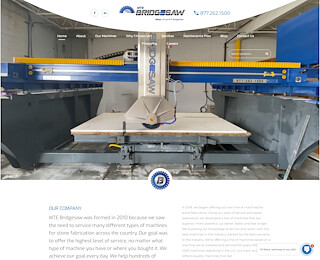 BridgeSaw has been in the business for many years, and our experience has enabled us to sell, repair, and maintain bridge saws. We know how computer-controlled appliances function and have trained technicians to offer repair and replacement services. Today's bridge saws are becoming increasingly more intelligent. Therefore, you need to work with the right bridge saw suppliers get the product and parts you need. We troubleshoot advanced systems and do regular machine maintenance.
We have an appliance repair team with the skills and experience needed to fix and replace control boards, BLDC motors, adaptive defrost controls, and inverter compressors. Here are some of the bridge saw replacement parts you can buy from us.
Cord Protector
Also known as a strain relief, this is a common feature in many power tools. The cord protector is made of rubber that protects the cord from exposure or being pulled out. An exposed card is a safety hazard. Cord protectors are designed to endure wear and tear, but they often crack and break into pieces. We sell lengthy protectors, including 4 inches long cords. The cord diameters vary, with the smallest being 0.5 inches. Once we finish the repair, we tuck in all the wires for safety.
Brush
We sell bridge saw brushes compatible with various models. We also sell replacement brushes for specific models. Our brushes are made from durable carbon alloy with an attached lead wire. The purpose of the wire is to transmit electrical current to the moving parts of the saw.
Brushes are commonly replaced because they endure lots of friction, which means they need replacement at some point. Worn brushes cause reduced electric braking, intermittent motor function, and reduced motor power. Brushes wear out near the wire lead and can crack, burn, or pit. Always ensure you replace both brushes even if only one is worn.
Roller
We source our bridge saw rollers directly from bridge saw manufacturers. This part is compatible with various tile saws. However, we will confirm if the roller fits your saw before selling it to you.
Rollers are secured on the tableside with a shaft so that the table glides smoothly during cutting. This part is susceptible to wear and tear. Rollers are made from rubber, and it is essential to have at least an extra one. If your saw is not sliding smoothly, it is time to replace the roller wheels. Keep in mind that the shoulder screw that secures it is sold separately.
Blade Motors
We understand that the bridge saw blade is an essential factor to consider when looking for a bridge saw machine for sale. You may be looking for an upgrade to match your increasing workload. Consider our superior blades. We have blades of all sizes depending on your needs. Our strong blades are meant to endure any condition. They are rust and corrosion resistant and designed to provide lasting service. Our courteous technicians will also provide safety training as part of our sales service. If you are looking for used bridge saws for sale near me, drop by our shop today and get a quote.
Please contact BridgeSaw at 877-262-1500 to learn more about our machines, our services, and us. We serve all of the United States, Canada, and Mexico.